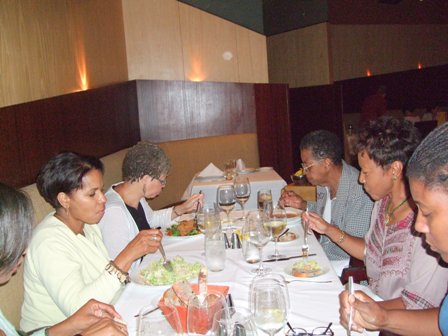 Village P.r.o.j.e.c.t.s Mission: To create environments in which persons from diverse circumstances and experiences can come together and co-learn with each other in a way that bridges the opportunity gaps, retains the respective cultures, and ultimately benefits society.
Village of Mentors - Project Group
The Village of Mentors Projects emerged from our premise that "underserved communities may be untapped sources of strength and empowerment." The Village assumes that every person in every community has the potential to not only mentor in one way or another, but to become a hub creating ever-expanding Villages. We meet with interested communities and assist them in identifying their strengths, their potential, and how to mobilize these assets. The whole community becomes involved to include hairdressers, barbers, grocers, places of worship, business people, school counselors, relatives, neighbors, politicians, organizations, schools, etc. We reclaim our own, and regain our strength through strengthening communities.
The first Village of Mentors was launched at California State University Dominguez Hills, School of Nursing and sponsored by Psi Eta Chapter, Chi Eta Phi Nursing Sorority Inc. We can assist other organizations, communities, and schools to launch Villages of Mentors.
Start a Village of Mentors in your community! We can help you! Email us villageprojects@aol.com
Goal: To facilitate the development of "Villages of Mentors" within local communities, concerned organizations, schools, etc.
Goal: To facilitate the nurturing of at least one emerging nurse leader in every underserved community.
Goal: To provide encouragement, support, and connections for emerging grassroots and community-based groups sharing goals similar to the Village of Mentors.
Lovene Knight PhD, RN - Facillitator (President LA Multicultural Nurses Association); Thyonne Gordon PhD - Co-Facilitator (Former Executive Director, "A Place Called Home); Pastor Gregory Johnson- (Former COO American University of Health Sciences); Rev. Brian Reese ( First CME Church, Las Vegas. Nevada); Yvonne Styles PhD Student, (Fielding Graduate University) Carla Yarbrough MA - (TenOutOfTen Productions LLC Productions); Charles Wade - (Youth Gang Prevention Programs); Ernesta Wright - (Executive Director, The Green Foundation).