Annual Villager Awards in Long Beach, California. > Work/Study/Volunteer in Kenya

Work/Study/Volunteer in Kenya

Bellflower, CA -- Oct 1, 2008 --

The Village P.r.o.j.e.c.t.s encourages young people in Bellflower and surrounding areas to learn more about other parts of the country, the world, the nation, the state, and surrounding communities. The knowledge and experience gained can be important in the development of skills necessary to "Think Globally, and Act Locally." The Village P.r.o.j.e.c.t.s is currently introducing persons interested in learning more about life in developing countries and communities.

This quarter's focus is on the Mama Na Dada (http://www.mamanadada.org ), projects in Kenya. Mama Na Dada is a nonprofit, Non-governmental Organization(NGO) headed by its founder Joyce Oneko. Persons wishing to know more about volunteer work/study/learning opportunities in Joyce's village should visit the Mama Na dada website, and email villageprojects@aol.com for additional information.

Shown below: Joyce Oneko, Founder MaMa Na Da Da

with colleagues in The Worldwide Network for Gender Empowerment

Seated (L-R) Elham Al-ateeq RN, Gloria Willingham RN, Anie Kalayjian RN, Joyce Oneko,

Andrea Zielke-Nardi RN. Standing (L-R) Sue Reamer RN, Patricia Harvard RN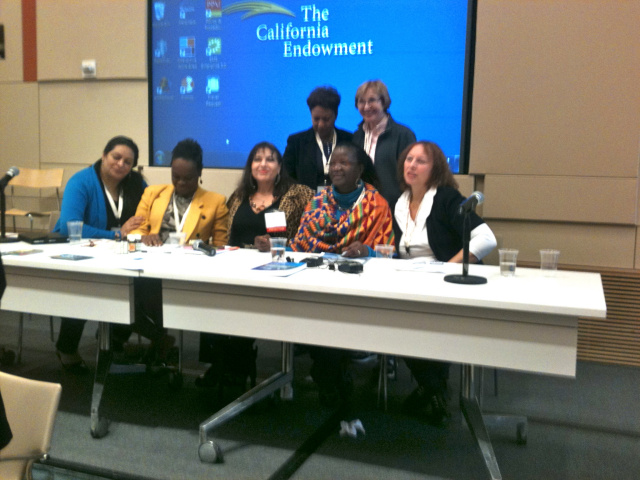 "Our solutions are bigger than any one profession or job. We must reclaim our interconnections and learn to freely share information with each other, and to support the success of a new generation. We must create connections and collaborations. Our goal must be to move this system in the direction of caring what happens to persons who need it the most, and we must take our place in that effort. We will find a way to make a difference!"
www.aframglobal.org